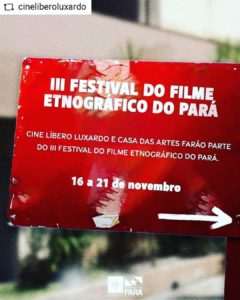 We are happy to annonce that we have selected 5 films of the III edition of the festival do Para to show in Paris at our 8th edition of Festival Apresvaran in the step of Jean Rouch International Documentary network in 2022.
–Pinjawuli: O Veneno Me Alcançou by Bih Kezo (3')
–Teko Mbaraete – Fortalecimento da vida by Vhera Xunu 10'
–O índio cor de rosa contra a fera invisível: a peleja de Noel Nutels, 71' by Tiago Carvalho
-And we hope to have a special session with Jorg Bodansky's audiovisual work.
We will try to make a virtual echo to what was shown at your festival in Brazil : Jorge Bodanzky and notes of a Deep Brazil and the film IRACEMA, UMA TRANZA AMAZÖNICA,
We hope that Alessandro Campos and Denise Machado Cradoso can be our special guests to present this special session " Echo of the festival of Para in our road of Jean Rouch'….in our 8th edition of the festival which be held virtually and in presence in Paris, France.
We will make especial session also on Katu made by Alessandro Campos.
We hope to have a dialogue between Alessandro Campos and Jorge Bodansky at our 8th edition.